Bringing It 'Til the End—Featuring Kenny Braasch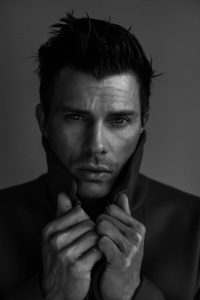 By Sara Freitag
A good dose of determination and discipline goes a long way.
Multi-faceted entertainment industry professional Kenny Braasch was only 24 when he was unexpectedly handed the reins as talent buyer for 115 Bourbon Street, a bar and event venue in the South Side of Chicago. Having originally been hired to do promotions, he modestly says he "had no business" being the talent buyer in the beginning, but of course that didn't stop the determined young Kenny from bringing his A game—and here he is sixteen years later, still bringing it and succeeding in several other endeavors as well. You never know what a "yes," plus a lot of discipline and determination, can yield—and Kenny certainly lacks none of those ingredients.
In addition to being Bourbon Street's talent buyer, Kenny is a model, band manager, and even a former Bachelorette contestant (his debut was on season sixteen, the Covid-delayed season with Clare and Tayshia in 2020). And as far as band management goes, Kenny and his business partner Glenn Hudy manage seven bands, one of them being The Boy Band Night (TBBN), which they started in 2014—and for which Glenn is also the bassist (the other bands they manage are The Hair Band Night, Country Night, Ron Burgundy's, Motown Nation, American Pie, and 90s Pop Nation, which is made up of the same members as TBBN).
The Boy Band Night is the first band the dynamic duo started, and both Kenny and Glenn handpicked the musicians, most of whom already regularly played at Bourbon Street. The talented musicians perform "note-for-note representations" of boy band favorites from Backstreet Boys, NSYNC, NKOTB, Jonas Brothers, One Direction, and more—all enhanced by choreography and visual effects that bring the entire experience to life. TBBN has had opportunity to not only bring down the house at their home base, Bourbon Street, but around the country and even in Canada. Not a bad sounding way to spend an evening—dancing to nostalgic jams from the past. After all, they've "got the gift of melody, [they're] gonna bring it 'til the end."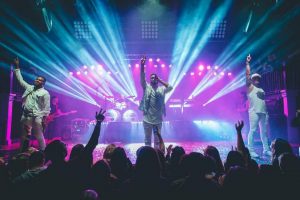 As if all of his business endeavors weren't enough, Kenny somehow makes time to give back to his community and spend time with those closest to him. He volunteers at Lakeview Pantry every couple of weeks and also spends time with family—including working out daily with his dad and spending time with his 1-year-old nephew. How he does it all, while maintaining his youthful appearance and much-talked-about abs, is a question that inevitably burns on many a mind. Kenny shares, "Everything I do [for Bourbon Street] is remote, which makes it easy to make my own schedule. I'll work all day from home as an independent contractor. It makes it easier to balance everything." And this is where discipline takes center stage. Kenny shares a couple disciplines he's developed over the years, which, if given the opportunity, he would have shared with his 20-something self.
First, he would tell himself to stop drinking. And next, to get serious about his health and fitness. "It creates clarity and confidence," he says, which is absolutely essential to anyone's functioning at optimum health. While he says his bar years were fun, he didn't have nearly the clarity and direction that he has now.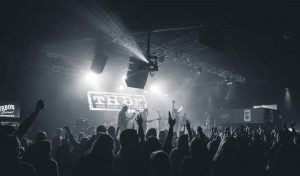 That said, while pre-Covid, he was busy modeling on top of balancing his robust music management and talent booking career, the entertainment industry was at a standstill for a bit, and the modeling industry was also significantly slower—so he utilized the time to work on some remodeling at Bourbon Street, but his days didn't come even close to as busy as they used to be. However, being on the Bachelorette took a good chunk of his time last year, and according to a recent interview, life on the Bachelorette felt fairly normal, as he was able to interact with the cast and do activities, albeit taking frequent Covid tests. Kenny projects that the music industry will return to normal no later than 2023, and in the meantime, TBBN is touring in places such as Alabama and Indiana, since those states are fully open at this time. There's also the possibility that he'll be landing some future airtime with Bachelor in Paradise, so he's definitely got a lot up his sleeve.
So much of what the boy band manager and entertainment industry guru does today goes back to him accepting the unexpected responsibility of talent buying for Bourbon Street years ago and his choice to not only say yes to that, but to live a disciplined and determined life—accepting opportunities as well as creating new opportunities for himself. Saying yes builds grit—which adds up over the years. If channeled properly, with determination, discipline, and tenacity, then a simple yes can lead to great success—which is exactly what we've seen in Kenny and why we're left so inspired. NSYNC (and TBBN) aren't the only ones bringing it 'til the end.