The Aspiration to Revise: Catching Up With Won Kim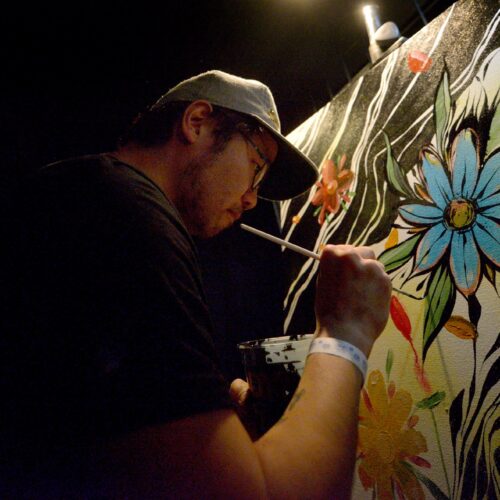 By: Sara Freitag
From a young age, there's something deep within an artist that's always aspiring to create and create some more.
In the case of Chicago artist and restaurateur Won Kim, doodling and penmanship practice in his younger years as well as gaining inspiration from magazines in the pre-internet days, inspired his street and mural art career, labeling him a true graffiti artist.
But a born creative doesn't always stop at one outlet of creativity. Kim owns and operates two successful restaurants, Kimski and Pizza, Fried Chicken, Ice Cream, where he is also head chef. Creative work just flows in and through him, whether he's tagging the streets of Chicago or creating culinary brilliance at one of his restaurants.
We recently had the opportunity to catch up with him and hear a bit more about his artistic growth over the years.
"It was a scavenger hunt for me to find walls with art. Discovering different neighborhoods, riding different train lines and buses. Seeing all of the walls adorned with colors and culture. It made an impression on me," says Kim. From the looks of his modern restaurant, Kimski, which is an interesting fusion between Polish food and Korean food—dreamt up by two brothers who grew up in a multi-cultural home where their mother would cook foods for them that reflected their roots in both Poland and Korea—it seems as though culture really did make an impression on him. "Slamming Korean and Polish Together," is the catch phrase for Kimski, which couldn't be more spot on. And if you're up for a good laugh, check out the videos on the website—here you'll learn even more about how the concept was developed.
Parallel to his time spent as a chef cooking up unique cuisines, Kim also spends time as a visual artist sharing a very innovative style and perspective which he developed through learning different techniques and observing other artists' work. In an interview, the artist shares the original inspiration behind his visual arts business name, Revise CMW. He says that he was "terrible at writing papers" in high school and that his teacher would constantly write the word, "revise" across every paper—so, the word stuck with him because of the revisions and evolution that an artist's work will inevitably go through over time.
Kim, having experienced life as an artist before the internet existed, talks about the change in the industry because of technological developments. Digitized art is much more of a thing now, and whereas many individuals once prided themselves on their physical galleries of artwork, those spaces are now evolving into digital galleries. He also says that the general public has much to learn about art, its value, and its importance. While LA and NYC are quite established in the gallery scene—considering art a necessity rather than a want, and even offering payment plans to cater to this—Chicago has some work to do in the area of bolstering local artists. As a Chicago based artist, Kim flies solo in finding his clients, unlike many artists in the aforementioned cities who are often represented by agents and connected to ad agencies and marketing firms. But this independence has not stopped the multi-faceted creative from gaining a large following on Instagram and establishing himself as a respected artist in Chicago.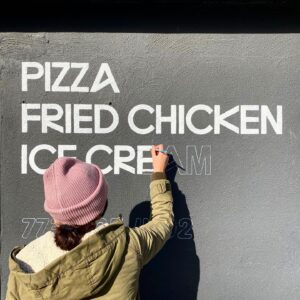 In fact, since the beginning of the pandemic, Kim has used his skillset and his resources in order to make an impact on the community. By selling a number of small canvases, he was able to raise $3,000 for his restaurant staff to help them pay bills. In addition to this, he started the Community Kitchen, a food service program that provides meals to community members who have needed help since the start of the pandemic. In this last year, he has also established a free farmers market for vendors, as well as raised funds for both Sutherland Elementary School and Englewood Montessori. It's obvious that the wellbeing of his community is important to Kim, as well as maintaining a decent number of projects on his plate at all times.
Speaking of projects, he has an upcoming show, which will occur on July 11th at City Grange on 99th Street—and we're so excited about it!
For anyone who may be interested in hosting their own event during this time, Kim offers some helpful advice. First off, he says that Eventbrite is a great resource for hosting. He also suggests selecting out-of-the-box places such as a restaurant parking lot or an outdoor garage—most importantly, keeping in mind spaces that are outdoors in order to make guests feel safe. Another option is to create a virtual show. And some wise words he extends are, "Be mindful of your audience. Art is subjective. A lot of artists are so insular and wrapped up in their own world/bubble, they forget their kind of artwork might not be everyone's cup of tea. See the bigger picture and realize there is a different flavor for everyone. Don't take it personal."
Kim also has a few things he would encourage his 21-year-old self with, if he could go back in time twenty years. First off, he would say the classic, "Buy Bitcoin." Next, he would encourage himself to be patient with himself, to document his work, and to avoid second guessing his work as well as its worth. To not deal with anyone else's drama. And something big for everyone out there is his following piece of advice: "Say 'NO' when you need to say NO. It's ok to say 'NO.' There will always be other opportunities—[but], they may not come as soon as you want."
Of course, he jokingly adds, "Don't open a restaurant if you value your life."
So, while he may be crying in a corner (joking), feel free to pop in and say hi to him at the restaurants where he usually spends his Saturday nights. You're in for a great experience as well as delicious, innovative dishes—because, as an artist, he's continually inspired to create and revise his art.