Letting Go of Why: Performance and Visual Artist Adriana Chavez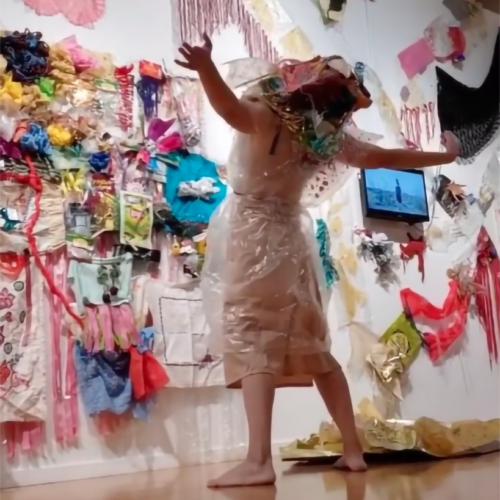 By: Michelle Graves
I recently met Adriana Chavez as a suggestion of "artists to know in Las Vegas." She graciously took me to the daytime opening reception of artwork by Alisha Kerlin at ASAP (Available Space Art Projects.) ASAP, along with Core Contemporary and many boutiques/tattoo shops, is located off Karen Ave in an old quaint two story outdoor strip mall turned creative oasis. At this exhibit, Chavez introduced me to another prominent proactive Vegas artist, Brent Holmes, who was vibrant and welcoming. In the first 10 minutes of meeting up with Chavez, I was already feeling excited to dig further into the Las Vegas art scene.
Adriana Chavez is humble when talking about her work, which balances the loose, playful approach to her found object/trash sculptures, collages, installations and performances. There are multiple characters she plays while performing amongst her wild hoarder-like installations, one being Juan Chico. Juan is a giver of his belongings and a celebrator of holidays with an embodiment of Chavez' latin heritage. Chavez' performances are durational and go through phases or acts like peaks of personalities she explores through her characters. An installation and scheduled Juan Chico performances called Hoard! Stockpile! Collect! Amass! Oh My! are part of the group exhibit, Future Relics: Artifacts for a New World, curated by Gulch Collective. It runs through August 2021 at the Marjorie Barrick Museum of Art. (The Barrick Museum, which is at the University of Nevada, Las Vegas, is directed by Alisha Kerlin mentioned above – the Venn Diagram of artists and artist spaces in Las Vegas is provingly easy to overlap and the excitement continues…)
A body of work that is successful through still photographic portraits and performative work is Chavez' mask series called Canto Profundo. This consists of creating large beautiful ritual-type masks that cover her whole face and head paired with a matching or juxtaposed outfit. Her mask work is rooted in her education at Dell'Arte International School of Physical Theatre where she discovered mask performance.
After years of having set her mask work aside, it rose to the surface again in September 2020 – a markedly appropriate time to re-explore what masks mean to the human race. 
The Canto Profundo mask work is on display at Brent Holmes and Ashanti McGee's new studio/gallery space called Gallery Mesa located in the Nuwu Art and Activism studios. This work is the base of Chavez' concurrent installation at the Barrick Museum called Finding My Light, a part of A Common Thread, a  textile based exhibit. Here, Chavez does a familiar durational performance but with an influence of Japanese Butoh dance mixed with Nick Cave's "sound suits." The slow-walking, faceless entrance is intriguing as Chavez approaches her wall of found objects, fabric and plastics. There is no obvious conclusion in her exploration of body, sound and object performances. Asking "why?" is the task of the audience – to associate and place value and meaning through observing. 
Chavez still feels new to the art industry though she's been involved in theater, movement & performance throughout her education. This seems to me a direct result of her admitted shyness. It is definitely not shyness that is revealed in her work but a non-verbal embodied observance of the culture, landscape and materials surrounding her. 
She answers some life questions with her words below:
Q: Do you feel that the pandemic affected your work and/or process? 
A: Yes, definitely.  As the whole world was shutting down, as civil unrest was spiraling, my personal life took a toll as well.  I was forced to stop everything and look within myself to ask what is it that I actually want? What is really important to me? Who am I really? How am I going to achieve my personal goals and release personal baggage that does not serve me anymore? These are questions that have come up throughout my life at various times, but I have not had a national and global life altering pause to address them.  I sat at home in kind of a stun mode, tried to keep breathing through the pain, examined what I had already built for myself, watched my 11-year relationship crumble to dust, watched my country continue to fight for justice and go through social upheavals, and did the only thing I could do in response: I made things. I collaged, I made assemblages, I made weavings with found objects and recyclables, I knit, I created theatrical masks, I made movement pieces, and experimented more on a theatrical character I created. In the summer of 2020, I was asked to be a part of two art shows: Femme Forte, at the Donna Beam Fine Art Gallery, and Future Relics: Artifacts for A New World, at the Barrick Museum of Art, both housed on the UNLV campus. The opportunity to work on these shows really got my gears turning.  I started to work on a larger scale and just let my ideas flow.  I started to really play for the first time.  I let my mind take a back seat so that my subconscious could take the wheel.  I let go of needing to know why I was making what I was making and just let the piece reveal the story to me. I had not worked this way before. It surprised me that I was getting such good responses from my community locally and far and wide.  Something cracked open and needed to come out and shine. 
Q: Now that you've finished your recent exhibit at the Barrick Museum of Art at UNLV, what are your next plans? 
A: Well, Future Relics runs until August and A Common Thread runs until July.  I've got performance activations planned, so I'm not quite done yet. I do have other plans in the mix, though. I am on the Las Vegas project team for the inaugural Live in America Festival, taking place at the Momentary Museum in October 2021 and put on by Fusebox Festival.  We're going to bring a bit of Vegas performance and art over to Northern Arkansas. I will also have pieces showing in the Mayor's office this June.
Q: When you're not working, you're doing ___? Eg, side projects, hobbies or home life. 
A: Standardized Patient acting work at UNLV and Touro University, Teaching Artist gigs at the Neon Museum and for an intergenerational program called SPRAT, funded by the Rogers Foundation.  I also like to make fun digital collages on Canva that incorporate the character I created.  I make masks and document myself wearing them in my backyard, and I take care of a bunny, a cat, and plants. 
Q: How would you describe or how do you feel about the Las Vegas art scene?  
It feels accessible. It feels encouraging. It feels welcoming.  Artists can make things happen here for a lot less money than in other saturated cities. It's a diamond in the desert. A beacon of light. There are literally springs all over this valley that nourish and quench the parched earth.  I feel this way about the Las Vegas Art scene, especially after living in Los Angeles and New York for a long time.  The Vegas art scene is not gushing, but it's waters run deep. There are so many opportunities to exhibit art, perform and make things happen for yourself, but you need to do the work. There's a smallish town vibe with lots of heart and risk takers. It's still a hustle but it feels more possible. I've been the most prolific I've ever been in my life while living here. Perhaps it's the expansiveness, the space I can let myself take up, or maybe it's the beauty and sacredness of the Mojave desert inspiring me to find the well within myself, or maybe because this place still feels like the Wild West.  I can make my own rules and keep charting my own course as long as I respect the land and the people that live on it.
Q: What advice would you give to other emerging artists? 
A: It's never too late to emerge. Trust yourself.  Move toward it. Even when you can't see the path.  It will appear if you just keep taking steps.  Trust the process.  You have everything you need.