Meet Anna Dulin of Fox River Flowers
Anna Dulin has experienced an array of occupations; she is an award-winning equestrian, sportswear designer and former aerial arts studio owner who once danced at Scores Strip Club.
"I was terrible, so they told me to stop," she laughs.
"I've always had to be creative as to how I made money."
Her latest venture, a floral design business with a mission, could be her most creative yet.
"Flowers make people feel good. They bring life and color and a sense of warmth to any space or mood." 
Dulin's idea for Fox River Flowers, which she launched in August of 2020, came about during the early days of the pandemic. She saw the concept as a way to keep her equestrian sportswear company, Equo, alive during a frighteningly uncertain time.
"We didn't have the relief checks yet. I got on the phone with one of my girlfriends in Florida that does flowers. I sat down, in one night, and got my LLC, reseller's license, G Suite account, secured my URL address, developed a logo, printed business cards off of Moo, and all of this happened between the hours of 6 p.m. and 2 a.m. the next day. The next day, I applied to Bloom Link and within 30 days I was working."
She now processes 500 to 700 orders a month, which are delivered to Naperville, Aurora, Joliet, Wheaton, Bolingbrook, Sugar Grove and St. Charles.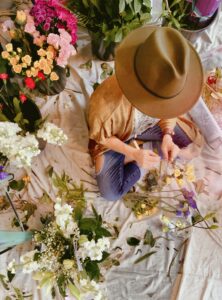 Fox River Flowers, as Dulin puts it, is "a one-woman show." 
"I have a driver that works once a week, but other than that, it's just me."
She is also launching her company's first campaign called The Sprinkle Effect, where customers can anonymously send people flowers, the first 100 of which are free of charge.
"I wanted to kick off this spring, after everything we've all gone through, with some joy, to bring the community back together."
Dulin is no stranger to doing things on her own. She was just 18 when a divorce in her family left her alone and living out of her car. 
She credits "being on my own and not wanting to fail" for her creativity.
"I never sat still. I was always creating. Not everything worked, but what did, stuck and got me here."
Having competed in horse shows for years, she had come to the realization that the classic nude and beige apparel she and her fellow riders wore was no longer going to cut it."I was at the park after a horse show when a kid asked me if I was wearing pants. I was mortified! Something had to change! There needed to be some detail in them, or something that made them look like pants."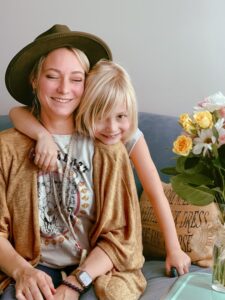 Dulin's answer was Equo, which she has been running for five years.
"We've dressed Olympians and celebrities. We set up at horse shows across the country."
Though Dulin had planned to move to Florida to focus on Equo, the success of Fox River Flowers has altered her plans, and she has decided to split her time between Illinois and Florida.
Her favorite part of the flower business?
"Building the arrangements because I can be as creative as I want. That's when I get to decide if I want seagrass sprouting out, a ton of hydrangeas, or birds of paradise. When people give me the reins, I shine.  Whether that's with flowers or horses."